Salter Weigh-Tronix
Avery Weigh-Tronix: Scales for Agribusiness
December 25, 2020 – 07:35 am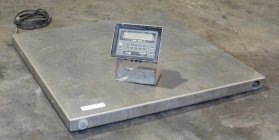 1971 - Incorporated in 1971, Weigh-Tronix was one of the largest U.S. suppliers of scale equipment applying Weigh Bar technology to build the first all-electronic deck scale.
1986 - National Controls, Inc. of Santa Rosa, California became part of Weigh-Tronix. The merger provided additional sophisticated load cell technology exhibited by its checkweighers, counting scales, retail and postal scales. It also added the respected Dillon force measurement equipment to the product family.
The company expanded to serve the full diversity of industrial scale equipment users. It had a substantial involvement in the OEM market and a growing export business. Avery Weigh-Tronix North American manufacturing was headquartered in Fairmont, Minnesota.
1991 - Weigh-Tronix became a subsidiary of Staveley Industries plc, joining the Staveley Weighing and Systems Group. This group integrated Weigh-Tronix, Chronos Richardson, and the Salter companies into a single weighing and systems organization serving a world-wide customer base.
1994 - Weigh-Tronix facilities in Fairmont, Minnesota and Santa Rosa, California achieve ISO 9001 certification.
1998 - Private investors purchased the Weigh-Tronix business from Staveley keeping the Salter company as part of the Weigh-Tronix family. This group has manufacturing facilities in the U.S., U.K., and Canada.
2000 - Weigh-Tronix expanded dramatically with the purchase of the Avery Berkel group of businesses from Marconi and the creation of Avery Weigh-Tronix. Avery Berkel brought an additional workforce of over 4, 000 and created a strong presence in Europe, Africa, and the Far East.
2008 - Avery Weigh-Tronix is acquired by Illinois Tool Works (ITW) and sits within its Test and Measurement Division. ITW is a diversified manufacturer of advanced industrial technology with 852 decentralized business units and over 60, 000 employees worldwide. To learn more about ITW and its' businesses go to
Related posts: