Mettler Toledo Indicators
METTLER TOLEDO Weighing Terminals and Indicators
September 21, 2019 – 11:27 am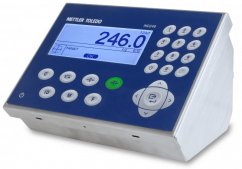 These value-price products offer simple and secure connectivity to a DCS, PLC or PC where an operator display and keyboard are not required. Functions for simple weighing, over/under checkweighing, classifying and counting.
Compact, economical and easy to install, flexible connectivity options make these terminals easy to integrate into industrial processes. Compact industrial terminals for a variety of applications available in stainless steel or robust die-cast aluminium.
An unmatched array of use-specific software modules combine with robust precision to make the IND560 an all-round match for virtually any industrial weighing application. Rustproof – corrosion-resistant – dustproof: The IND690 weighing terminal will withstand all industrial environments for years.
Scalable and flexible, the IND780 connects to as many as four platforms, provides a metrologically-approved sum scale, and offers the maximum in customization. Whether importing weighing results to ERP or fieldbus systems, or working in hazardous areas, freely programmable terminals make it easy to create customer-specific solutions.
Windows-based Application Terminals ID30 are the "high-end devices" among the MT industrial terminals. They combine intelligent weighing technology with customer specific software application. A range of terminals, weigh modules and accessories specially designed to meet global standards for safe use in explosive environments.
Packaged solutions leverage the advantages of scale terminals, integrating a variety of application-specific features such as I/O devices. From simple static weighing applications to sophisticated weigh-in-motion and coupled-in-motion systems, these vehicle scale terminals are ready to meet any transportation challenge.
Printers, displays and connectivity options to enhance and extend the functionality of your weighing system. The IND9U series provides the power and performance of METTLER TOLEDO scale terminals in a stand-alone, unattended format, ready to work around the clock, day after day.
Related posts: