Weighing scale With Printer
Connect a weight scale via the Epson T-88V-i printer
August 2, 2021 – 09:55 am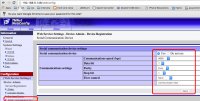 The Avery Brecknell scale can be connected via your printer to weigh products in the register app during a transaction. This is great for locations such as yogurt shops, butchers and grocery stores.
You will need:
An Epson T-88V-i printer with DB9 Serial interface
An Avery Brecknell POS Bench Scale - 6710U
A serial DB9 Male/DB9 Female 8C Null Modem Cable
The printer is ethernet, which must be connected to your network and detected as an available printer before proceeding.
Follow the steps below to configure the printer for use with the weight scale:
Select printer in "Default Communications Hub" settings
Enable the printers serial port and verify the settings are correct
Connect the printer and scale using the DB9 Serial cable
Set the scales 'type' setting to ensure correct units are sent to the register app during weighing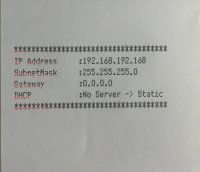 Step 1 - Select your printer in the "Default Communications Hub" in the register app
Tap on "Dashboard" ⇨ "Settings" ⇨ "Printers" ⇨ "Advanced" and then "Default Communications Hub" .
From there select the T88V-i printer you have for the scale.
Step 2 - Enable the printers serial port and verify the settings are correct
Open a web browser, then navigate to the printers admin page. This is usually http://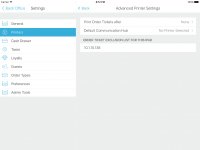 /webconfig. The printers IP address shown in the talech app (see screenshot above) as well as printed out each time the printer is powered on:
The default username and password for the printers /webconfig page are both 'epson' (without the quotes).
Click on 'Serial Comunication Device' and ensure the 'Communication settings' are as follows:
Serial device communications settings : Use
Communications speed : 9600
Data Bit : 7
Parity : Even
Stop Bit : 1
Flow Control : None
Connect the serial cable. Connect the power cable if not already attached.
Please note: Some customers may be using the CAS PD-II Scale. This scale requires an additional step:
Set the scales 'type' setting to ensure correct units are sent to the register app during weighing
Power on the scale while holding the # button. Release the # button when you see 'tYPE 0' on the display.
Tap the 'lb/oz' button until the display reads 'tYPE 5'
Related posts: