Digital scales VS traditional scales
Best Digital Food Scales of 2017
July 16, 2017 – 09:54 am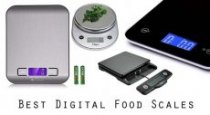 First off… Every Serious Meal Prepper should have one!
Living in the digital age, food scales are not just like your Mama's traditional one anymore. They are fancy, yet amazingly simple to use. And now, they are quite affordable too. Every meal prepper concerned about accuracy for cooking that perfectly delicious meal or the one striving for weight loss should seriously consider getting one. Why? Let's consider some reasons:
PRECISION
While it is true that you can do a lot with your eyeball and your hand to get an idea of portion size in a pinch, once you are finding some success in trimming those pounds and want to continue, you will find that a simple digital food scale can come in very handy. Some dieters would not consider doing without one.
It is more precise than packing your measuring cup and hoping for the best! There are a lot of factors that go into the weight of a cup of flour, for instance, and it can make big difference as to whether your finished product comes out tough and puck-like or soft and spongy. It works the same for diced foods. It can depend on how coarse or fine your foods are diced (think nuts or cheese) to determine its correct portion, but if you weigh it; perfect every time!
RATIO BAKING OR COOKING
Food scales are super great for cooking/baking by ratio and makes it a breeze. Consider something that you are in the habit of making all the time; breakfast comes to mind. See some fantastic new breakfast recipe ideas here. There are recipes that call for 1 part of something to 2 parts of another, for example. A digital food scale makes it super easy to alter your recipe to make as little or as much as you want of that recipe. Or you can scale the ratio down for a single serving, or up for a large dinner party with ease.
DIVIDING EVENLY
When meal prepping for several days in one cooking session, you can use your food scale to make sure that you will have the portion consistency for each container. Uniform ingredients will always be in your future. Find some yummy lunch recipes here
WEIGHT CONVERSIONS
Digital food scales do the conversions for you. Have you ever run across a great recipe from a part of the world that uses the metric measurements (or vice versa) and you avoided it only because you didn't have the right tools? Gone are those days because nearly every variety of digital scales does those conversions for you.
SO EASY TO USE
Unlike traditional scales that require subtracting out the weight of the bowl you are measuring in, digital scales all come with a tare button that you press to "zero out" the weight of the container you are using to put your ingredients in. By pressing "Tare" you can start at zero with each new ingredient weighing each one all in the same bowl.
What to look for in a digital food scale:
Measuring platform size big enough for your needs.
Weight capacity for the scale. Most of the best sellers go from 1 gram (or .1 oz) to 11 lbs.
Clear display readability
Automatic shut-off to protect battery life.
Ease of cleaning and storing.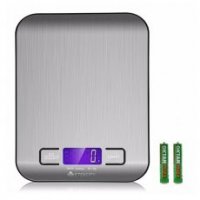 In making a decision for this quintessential meal prep tool, there are a plethora of digital scales for you to choose from. They come in a variety of shapes, sizes, and colors to accommodate for each budget and need. Here are a few that showed to be classic best sellers on Amazon to get you started. All come with a 1 year warranty or money back guarantee and all come with batteries included. Which one will fit your needs?
1. Ozeri Pronto Digital Multifunction Kitchen and Food Scale, Elegant : .50
The Ozeri Pronto has over 8, 600 5-star positive review ratings. It boasts of being Amazon's #1 best-seller in this category. It has a large weighing platform, yet cleans and stores easily. Conversion between metric and standard units of measure is easy. It comes in 7 different colors from which to choose from. Some of the reviews said that the display is not backlit and it could be a bit tricky reading it if you have a plate on top of the weighing platform. If this one that appeals to you, find out more here.
2. Etekcity Digital Kitchen Scale Multifunction Food Scale, 11 lb – $13.98
This user-friendly model from Etekcity has anti-fingerprint technology and a thin and smooth design with a stainless steel finish. It is another best-seller on Amazon with a 70% 5-star rating out of 3, 339 reviews at this time. It compact for traveling. It has a quick unit conversion with 4 high precision sensors to give you the accurate weight. It comes with a backlit display for easy readability. Reviewers were very pleased with the company's customer service when it was needed. A few mentioned that there was a 3 gram disparity when weighing ingredients.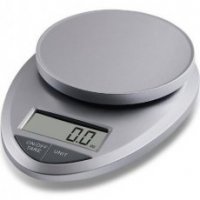 On the whole, purchasers seemed very pleased with this scale and noted it's multifunctionality in also being able to double as a postage and jewelry scale as well. You can find this top-seller here.
3. EatSmart Precision Pro Digital Kitchen Scale – $19.96
This highly accurate scale is recommended by The Sweet Home.com It comes in 4 different colors to choose from : red, white, silver, and black/chrome. It comes with a special calorie guide booklet that is a bonus. A nice feature on this model is that it has non-slip rubber tabs on the bottom to keep it securely in place on your kitchen counter. It has a 3 minute window before the auto-shutoff so that you can get your ingredients weighed while it also maintains a strong battery life. Out of 8, 315 Amazon reviews, 81% gave it a 5-star rating. This highly recommended unit can be found here.
4. Etekcity Digital Kitchen Scale Multifunction Food Scale with Removeable Bowl – $21.99
Another product from Etekcity, this scale has a few more features than the previous model we reviewed from this company. It is also a very good seller with 83% of those purchasing giving it a 5-star rating out of 1, 444 reviews on Amazon to date. This one comes with a removable bowl that was made to fit this scale specifically (though any container can be used). It also comes with a temperature sensor and an alarm/timer giving it multiple uses in the kitchen. It is made with stainless steel and has a clear readable backlit display. If multi-use kitchen products appeal to your meal prep sensibilities, you might like to take a closer look at this one here.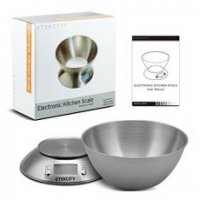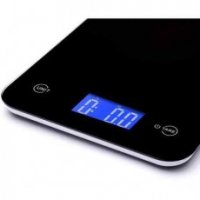 playmario.org
Related posts: