Ocs checkweigher manual
TQS-MP (Manual Pack) - 2 Pages
June 28, 2020 – 06:41 am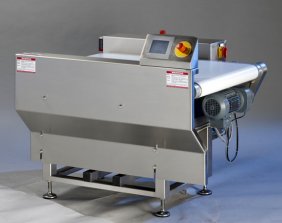 TRACK & TRACE TRACEABLE QUALITY FOR FINAL PACKAGING. The solution for manual aggregation. TheTQS-MP (MP = Manual Pack) is a modular solution for aggregation in the area of manual final packaging. A single software provides intuitive operation of all components. A GMP compliant 15" colourTFT display with touch-screen provides a visualisation of each processing step. TheTQS-MP allows the operator to conveniently assign units from a lower packaging level (e.g., folding box) to a higher level (e.g., bundles or shipping cases) and, in this way, to set up the hierarchical relationship (parent-child relationship) in the database.The layouts for the printed labels are prepared and administered using the integrated layouter.The revolutionary TQS system has a truly innovative approach for integrating all components so as to simplify operations and reduce the complexity of the overall system. The operator registers the packaging units via the flush- mounted scanner and assigns them to the next higher packaging level. After reaching the defined number of units, the aggregation step is complete and the label is automati- cally generated.The product handling is optimised for ergonomic working conditions. TheTQS-MP system even allows the handling of the next packaging level (e.g., shipping carton to palette). In this way the parallel use of the optional hand-held radio scanner accomplishes the aggregation of the palette.The operator is assisted by an integrated display on the mobile scanner. Basic configuration • Base frame with small surface area (adjustable height) • Integrated stainless steel control cabinet • Ergonomic and adjustable 15"colour TFT display with touch-screen, featuring all in-one operating concept • Integrated omni-directional, high performance data matrix code reader • Industrial thermal transfer label printer on sliding rails for easy change of medium • Adjustable height shelf for shipping cases • UPS for safe data processing in case of power failure • Selectable working direction (left to right or right to left) • Second adjustable height shelf for additional shipping • Additional hand-held radio scanner with integrated control display • RFID functionality for thermal transfer label printer • Line-manager functionality for networks with upstream or downstream TQS modules or further coding and verification systems in the production line • IT connection to databases...
https://modernvet.com
rancho park veterinary clinic.
Related posts: