Right weigh Load scales
Right Weigh Onboard Load Scale Interior Mount Black Bezel - 510-46-B
December 30, 2019 – 11:45 am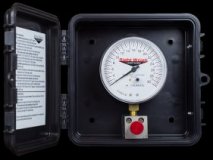 Product Name: Onboard Load Scale Interior Mount Black Bezel
Manufacturer: Right Weigh
Our Part Number: RWH 51046B
Manufacturer Number: 510-46-B
Package Quantity: 1
Unit Of Measure: EA
All of the Right Weigh interior load scales are designed to monitor a tandem axle air suspension that is managed by one height control valve. Typically, these load
scales are
used to determine the on-the-ground axle weight of a tractor's drive axles. However, if the tractor and trailer are a "married set" then a second interior load scale can be used to determine the on-the-ground axle weight of the trailer tandems.
The 510-46 tandem load scale is a 2 inch LED lit dash gauge and fits into a standard 2 1/16 inch gauge hole.
Airline Connection: 1/8 inch NPT
Bezel Colors: Black
Back Light Type: LED
Back Light Color: White
**Optional installation kits are avaliable.
Cross Reference: RWH 51046BW
Product Availability
Ships Today:(Monday through Friday) This item is in-stock at our warehouse(s). Orders for in-stock items will generally ship the same day if the order is received prior to 3:00 pm ET. Orders received after 3:00 pm ET will ship the next business day. Next Day Air orders placed by 4:00 pm ET will ship the same day. Every effort will be made to accommodate Next Day Air orders placed after 4:00 pm ET. Please note that new account set-up and verification may cause a 1-day delay.
Usually Ships in 1-3 Days: This item ships directly from the manufacturer's warehouse. Please note that additional shipping and handling charges may apply. Shipping times may vary based on availability at their warehouse.
Ships In - Day(s) : This is a special order item we don't have on hand. The number of "Ships In Days" is the average number of days it took to fill orders for this item in the past. Please note delivery times may be longer for some items, depending on availability at the manufacturer. Our in-stock inventory is constantly growing as we monitor increasing demand for Special Order products. If you'd like to see us stock a particular product, please contact our Customer Service team.
Temporarily Out of Stock: Due to high demand or manufacturing shortage, this item is currently not available for shipment. We are working with the supplier to expedite the arrival of past due inventory. Please contact us if more information is needed.
Service/Training: This offering is a service or training and is always available. Shipping details are not applicable.
Discontinued: These items are no longer available.
While Ryder FleetProducts.com makes every effort to provide current stock status, products listed on the site as in-stock may occasionally be on back order. If this happens, we will notify you of the delay and offer alternative shipping options. For questions related to order lead times and additional charges for drop shipments and
Related posts: