Electronic kitchen scale
Gourmia GKS9130 Folding Scale Compact Electronic Kitchen Scale With Tare Function Choice of White, Green, or Orange
April 29, 2020 – 06:19 am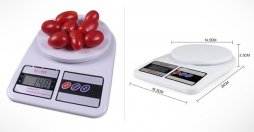 A small scale that really measures up!
Save time, space, and hassle with the Folding Scale by Gourmia. This incredibly compact tool keeps your measurements neat and precise whether you're baking a cake or portioning meals for your family's diet. Simply place the scale on a flat surface and fold it out at a 90° angle into an "X" formation. You can then place food in a container or directly onto its surface for pinpoint metric and imperial measurements. As a busy cook you will love the scale's simple one-touch operation and easy read LCD display. With commercial grade tare and other advanced features, Gourmia takes the guesswork out of your cooking routine!
Professional Precision
This multipurpose gadget accurately reads any ingredient's weight within a division of 1 gram [0.1 ounce]. Avid home cooks and professional chefs can use it for measuring flour, sugar, salt, coffee, tea, cereal, and much more.
Compact Convenience
Free up precious counter space with a folding device that easily fits in a kitchen drawer, cabinet, or culinary backpack. In its folded-out form, the scale lays flat so a plate, bowl, or cup can perch safely on top.
Auto Zero Function
Prep food like a pro by relying on this smart scale for its handy tare setting, which enables you to set the readout to zero no matter what's on top. Build and measure your recipe without having to remove ingredients or containers.
Low Maintenance Appliance
The utensil's durable ABS material wipes clean with a cloth for hassle free washing. It also boasts automatic shutoff and alerts you when the battery is running low or maximum weight capacity is reached.
Fun and Functional
Available in either classic white, bright orange, or bold green, this unique scale makes an ideal gift for the cooking enthusiast in your life. Everyone is sure to enjoy its effortless one-touch operation and portable ease.
Related posts: