Portable truck weigh scales
Portable Weighing Scales by Payload Pros
July 10, 2017 – 01:38 pm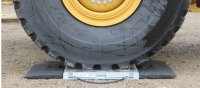 Portable Truck Scales by Payload Pros
Portable weighing scales, also commonly referred to as portable truck scales or portable weighing pads, provide a convenient and efficient weighing solution when portability is of the essence. Unlike some portable weigh scale systems, our portable truck scales can be consolidated in an easy-to-carry case within minutes.
These portable weighing scales for trucks are ideal for many industry applications, such as for farmers, agricultural producers, construction, waste management companies, mining operators and more. And if investing in a portable weigh scale is out of your budget, Payload Pros also offers portable truck scale rental solutions on all portable truck weigh scale systems.
Accurate & Versatile Portable Scales to Weigh Trucks
At Payload Pros, we specialize in fully portable scales to weigh trucks and other large vehicles. Our portable weigh scales are designed to advance our customers load management operations to the next level, without sacrificing precise measurements and optimal versatility.
Payload Pros is an industry leader for all types of truck scale systems, and portable weighing scales are one of our most popular options. There are many companies that offer portable scales to weigh trucks; however, not all portable weighing scales are created equal.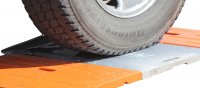 We encourage you to contact us to learn more about our portable weigh scale options, or get information on portable scale rentals.
Advantages of Portable Truck Weighing Scales
Our portable scales to weigh trucks deliver a wealth of advantages for a number of different users. As the industry standard among portable truck weighing systems, these systems provide several advantages and options, including:
Various Portable Weighing Scale Designs
Aluminum & Steel Construction
Simple & Intuitive Portable Weigh Scales
Portable Weighing Scales for Truck Axles
Fully Portable Weighbridges & Heavy-Duty Systems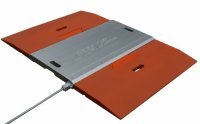 Perhaps one of the most advanced features that many users leverage with our portable trucks scales is the weigh-in-motion capabilities. No longer do your vehicles need to come to a complete stop to calculate load weight and/or gross vehicle weight. With weigh-in-motion portable scales, trucks can pass over the scale pads at speeds of 3-5 MPH and the system will accurately take measurements on the fly.
Heavy Duty Portable Truck Scales
The heavy-duty portable weighing scales provided by Payload Pros is a steel-deck scale that is designed for weighing over-the-road or off-road vehicles. These portable scales to weigh trucks are ideal for demolition, logging, construction, sand, gravel, and other rugged operations that constantly move from one job site to another. The modules of our heavy-duty portable weighing scales are factory assembled and easy to install and transport.
AXW 30T Portable Weighing Scales
The AXW-30T portable weighing scales are designed for operations that weigh vehicles of 30 tons or less. These portable scales are engineered to provide seamless vehicle weighing with the option of static or dynamic (in-motion) weighing. The AXW-30T portable truck weighing scale is ideal of farmers and agricultural producers during harvest season, as well as various other parties in the shipping and logistics industries.
AXW-30 Series portable weigh scales are crafted from a single piece of aluminum, delivering an ultra light weight portable scale to weigh trucks, while providing accurate axle and total vehicle weights. The advanced design makes this one of the most popular portable scales to weigh trucks.
AXW 45T Portable Weighing Scales
The AXW-45T portable weighing scales are specially engineered for heavy-duty applications that weigh vehicles up to 45 tons. Our AXW-45 Series of portable weigh scales deliver highly-accurate weights for large, heavy-duty off-road vehicles like mining haul trucks. This portable scale solution is highly advantageous for users that need to weigh large tires and for weighing in rugged off-road conditions.
Related posts: